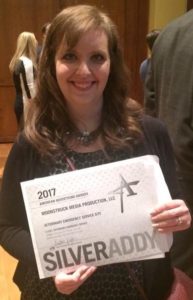 February 26, 2017, Moonstruck Media Production, was awarded a silver award from the American Advertising Award (formerly Addy Award) from the American Advertising Federation (AAF) Madison Chapter for a consumer website they designed.
The winning website, created by Kristy Crosby owner of Moonstruck Media, was developed for their client Veterinary Emergency Service (VES) (veterinaryemergencyservice.com). VES wanted a site to grab the attention of potential and current clients, to show compassion, promote all three locations, promote their Emergency and Specialty Services and overall they wanted the site to be easy to navigate.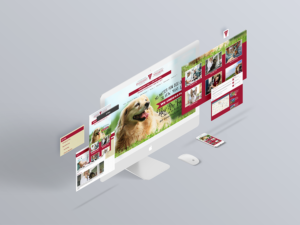 Crosby, states, "This was a fun site to create. Being an animal lover myself I wanted to show everyone what a great company VES is and all the great things they do. It is an honor to win this award and be recognized among the large agencies in our area!"
The American Advertising Awards (formerly the ADDY's) is the world's largest advertising competition founded in Florida in 1960. It was adopted by the American Advertising Federation as a national competition in 1968. The American Advertising Awards is unique among advertising creative competitions in that it is the only competition that includes three levels of judging: local, regional, and national. Winning an ADDY at each level qualifies the work to progress to the next higher level of competition. Gold and Silver ADDY Awards are presented for both professional and student entries.
American Advertising Federation (AAF)- Madison is committed to the development of the advertising, marketing and communications community in the greater Madison area. To fulfill their mission, they offer a wide range of educational, networking and social opportunities for their members and guests.
Moonstruck Media Production, is a multi-media production company offering a full range of video production, live streaming, graphic design, social media, website design & development and much more. Moonstruck Media in business since March 2006, is located at 7361 Darlin Drive Suite 8 in Dane, WI. For more information about Moonstruck Media Production call 608-850- 3725 or visit moonstruckmediaproduction.com.