Moonstruck Media Production started in 2006, when owner, Jeremy Crosby, saw a need for a multimedia company that combines the services of Video Production, Web Design, and Graphic Design. Jeremy started the company while in collage along with his former business partner, Krystal (who now owns the successful photography studio, Silver Tree Studio) and his then future wife Kristy.
Since the beginning, Moonstruck Media Production has strived to put clients first and make their multimedia ideas become a reality. In 2009, Moonstruck Media Production had become the first company in the Madison area to offer Live Streaming to businesses. Since this service has been launched, Moonstruck Media has traveled through out the United States from Connecticut to California and everywhere in between!
In 2010, Kristy had become a huge part of the Moonstruck Media Production team and went to working full time at the company. With in two years, the company grew and hired their first two employees to help get projects done faster and new ideas rolling in. During that time, Moonstruck Media Production produced a live TV show for the Madison CW affiliate called "Inside Badger Nation", a sports talk show that highlighted UW Badger players and recruits.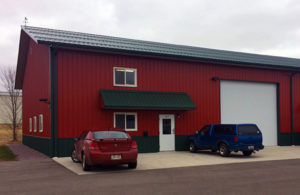 In 2016, Moonstruck Media Production reached a monumental milestone and not only celebrated 10 years in business, but also moved their office into a building complete with a large studio space. This studio space is complete with lights, backdrops, props and more to help companies create powerful promotional videos, as well as training, seminars and more!
Moonstruck Media Production has continued to grow by adding more services to help our clients each target audiences that go hand-in-hand with their other services. They include Social Media Marketing and Content Writing. These services help companies connect with their clients as well as help themselves reach new audiences. Combined with Graphic Design and Web Design services of Moonstruck Media Production, amazing visual connect is provided and distributed throughout the internet.
2017 will be bringing in a lot of new and exciting things for Moonstruck Media Production. Be sure to stop by to the website and check out their new projects, as well as their Blog, that not only will have company news and new projects, but also helpful information for you to grow your company!